About College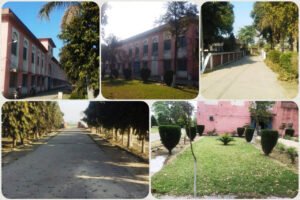 Baba Budha College Bir Sahib, Tarn Taran possesses the world-class environment with highly qualified and experienced faculty, fully – equipped labs, good infrastructure and excellent placements. Baba Budha College is one of the best institutions among others in our region that imparts the best practices in practical as well as academic knowledge to its students that helps them to be globally viable and open to the industry-driven opportunities. The college aim to create an intellectual, academic and physical environment, conducive to free flow of ideas.
The college is affiliated to GNDU (Guru Nanak Dev University), Amritsar and is in process of accreditation by National Assessment and Accreditation Council (NAAC). It has always been our priority to make the experience a globally acceptable one and enable the conflation of different cultures to promote intermixing of various schools of thought.
With our enriching experience of 50 golden years, our institution is what looked upon for innovative and distinguished facets. We value your presence and we make consistent efforts to bind by commitment, we are known for truthfulness which is building blocks for such an empire. You are welcome to be a part of this esteemed institute and make yourself potential in every way.